6 Strategies of Effective Press Release Marketing
Posted on November 22, 2011 by CJ Article Team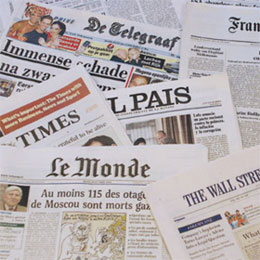 There are no "secrets" per se to writing online press releases that grab attention — it's all about following a step-by-step strategy. It's a matter of identifying the different piece of a press release and then knowing how to most effectively execute each part.
In many ways, a press release is similar to your car. There are several parts under the hood, and each must do its job effectively to propel your vehicle forward. The same is true with PR marketing. Your headline, summary, PR body, and call to action must each perform well to attract journalists, bloggers, customers, and the search engine spiders. With this in mind, we'll share 6 strategies for writing successful press releases below.
#1 – Write An Enticing Title
Your title has two main jobs. First, it should improve the ranking ability of your press release in Google and the other major search engines. This is done by placing your primary keyword in the title, preferably as close to the beginning as possible.
The title's second job is pull the reader into your press release. It should encourage her to read more about your company and products.
Be brief. Be direct. Resist the temptation to be too clever at the cost of being ambiguous.
#2 – Create A Summary That Leads The Reader
Don't underestimate the influence of your summary. It functions like the onramp to a freeway. If it is written well, it will help your reader to gain momentum into the body of your press release.
Provide the most salient points of your news angle. Give the reader the key details of your story, your company's role, and the reason the story is relevant. Your summary should continue the excitement created by your title.
#3 – Frontload The Body
One of the key writing tactics newspaper journalists learn early in their careers is to frontload their pieces. Rather than saving their best material for the end of their stories, they include it in the beginning. They realize readers' attention is fleeting. It's better to capture it upfront and keep it than to lose it and spend the rest of the piece hoping to regain it.
Even if your title and summary are perfect, you can still lose readers in the first paragraph of your press release's body. Make the beginning strong by storing the "good stuff" upfront.
#4 – Edit And Condense
Editing makes your press releases easier to read. It removes the unnecessary details, sharpening your PRs and improving their clarity.
Few business owners can create a tightly written PR on their first attempt. The first draft may pour out easily, but contain bulky passages, semi-relevant quotes, and clunky phrasing. Editing shortens the piece and cleans it up, making it more appealing to journalists and bloggers.
#5 – Sell Your Company In The "About" Section
Consider the person who reads your PRs. If he or she is a journalist, there's a good chance they read (or skim) several a day. If that's the case, the content may begin to blur – similar to smelling a dozen perfumes, one after the other, during a single shopping visit.
Your PR's "About" section is where you can stand apart from other businesses. Explain what your company sells and the unique position you occupy in your niche. Mention rewards or recognition you've received in the past. While you want to avoid sounding like a used car salesman, you do want to be clear about what your company does, and the brand you represent.
#6 – Focus On Facts, Not Hype
We mentioned earlier that many of the tactics used in other marketing efforts can be used successfully in your press releases. The principles are similar. This does not mean you should write your PRs in the same way you would write a sales letter. Both carry completely different tones.
Avoid hype, and rely on accurate information. Use comparisons to drive points home in new ways for your reader. For example, suppose you wanted to focus on the incidence rate of vehicular deaths in the U.S. Rather than saying 45,000 people die each year in automobile accidents, reword the statistic by comparing the number to a plane full of people dying each day.
Again, there are no secrets to writing engaging press releases. Focus on the individual parts of your PRs, and make each one as effective as possible.
Online PR Media is the press release distribution site that supercharges traditional media press releases with multimedia, social media, and SEO. Claim your free copy of "The Results-Driven Press Release Formula" written by SEO copywriting experts and learn how to write press releases that generate publicity and visibility.
Article Source: http://EzineArticles.com/?expert=Christine_OKelly