How to Create Your Own Classified Website With WordPress
Posted on October 12, 2011 by CJ Article Team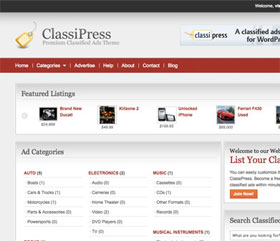 A lot of inexperienced entrepreneurs use their lack of technical skills to blame not getting things done. A lot of folks do not put their sites up fast enough as they do not know how to write HTML code or work with PHP files. In reality, these are just excuses. Open source software solutions such as WordPress and Drupal allow you to put sophisticated websites up fast. You do not have to be a technical guru to install WordPress on your server and launch your very own website quickly.
WordPress is a content management system that is designed to help webmasters create and manage their websites more effectively. The software is free, and you can make any website with it. You can even create your very own classified website and make money from your listings.
ClassiPress is a WordPress theme that allows you to put up a classified listing website fast. It comes with an option page that allows you to create multiple categories and subcategories for your listing site. The system fully integrates PayPal, allowing you to easily charge your users per each listing. Unlike other themes, ClassiPress does not require you to install any plug-ins. In fact, it works perfectly fine without one.
You can use this theme to develop your own unique listing site fast. You can allow your users to add multiple images and add their contact information as well. The system comes with auto-delete feature. This feature allows your user to define expiration dates for their listings. The system will take care of the rest.
Classified websites are not for everyone. If you are planning to blog on your WordPress website, you should probably look for other themes. But if you are interested in running your own listing business, you can use ClassiPress and its integrated payment system to make money online.
Article Source: http://EzineArticles.com/?expert=Panah_C_Rad