Using Pay Per Click Marketing to Grow Your Internet Business
Posted on January 09, 2012 by CJ Article Team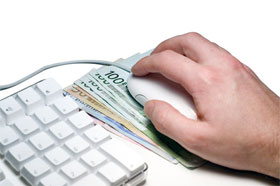 Pay Per Click Marketing Can Help Grow Small Businesses
Pay per click marketing has proved itself useful and effective for those wishing to conduct business using the Internet. What exactly can you do to utilize this powerful tool for your business?
What is Pay Per Click Marketing?
Pay per click marketing is a recent marketing technique which involves the use of advertisement links that appear mostly in search engine results. One example of this is in Google, where you could see links in the right side of the search results page.
PPC ads are associated with certain keywords that are specified by the owner. When a web surfer strikes up a search for these keywords, the ads will appear along the search results.
In contrast to the old approach of merely posting a paid advertisement to the public and hoping someone out there will have the interest, PPC instead allows you to pay only for every visit that your site gets through the ads that you have posted.
Advantages of Using PPC Marketing
One advantage associated with pay per click marketing is the speed in which you could generate traffic. Your ad becomes live within minutes of posting, and mere minutes after that you can expect traffic to enter your site. Whats particularly effective about this type of online marketing is that the traffic is likely to buy or enquiry as the visitors are targeted not only be keyword selection but also by the ad copy which the advertiser has complete control over, unlike organic positioning.
Pay per click marketing is very affordable and flexible. This is because to secure a spot for your ad, you have to make a bid. This bid also tells the PPC company how much you are willing to pay maximum for the clicks your ads get. When the number of clicks reaches this limit, the company automatically removes your ad from the search engine results. Such a feature affords you control over your advertising expenses, because you would not be paying more than what you want to pay. Take note though, that the position of your ad among other similar ones is determined by the amount that you bid and because some industries are heavily over subscribed in terms of pay per click advertisers it is not uncommon to expect to pay upwards of £1 for 1st page positioning. However it is also just as likely that you will have high performing keywords that top positions can be reached for less than a 10p bid. Ultimately though the bid prices and cost per click should be determined by how effective the traffic turns into sales and what the margin per sale is.
You have absolute control over your keywords. Should they prove to be uncompetitive and unpopular, you could always edit and change them with the keywords that are more likely to attract more traffic to your site. The flexibility this type of marketing affords you is a great help especially when you are just starting your business.
Because of its powerful advertising capabilities, pay per click marketing is ideal and offers potential for small businesses to be noticed and compete successfully with the bigger and more recognized enterprises. Because it is keyword-based, PPC displays small businesses ads alongside household names if they have same keywords associated for their ads, essentially allowing smaller businesses to compete for the same purchasers as very large companies.
Some Points to Consider in PPC marketing
PPC alone is effective in generating traffic, but to maximize its effects and advantages, you should also make sure to come up with a good design for your website. Remember, even if you do come up with competitive keywords for your advertisements, the traffic you generate will be useless if your website itself does not generate enough interest for your visitors. Key points to consider to make sure the website is good at selling include site navigation, call to action, and ease of purchase.
Article Source: http://EzineArticles.com/1169648