Richard Branson – The King of Branding!
Posted on May 30, 2011 by CJ Article Team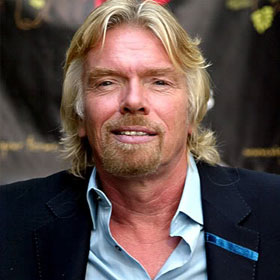 Richard Branson's business success largely stems from his personality, charisma, and vision. Richard Branson personifies his companies and the brand – Virgin. He has been building the Virgin brand all over the globe and has seen his efforts pay huge dividends in the press.
A recent survey suggests that the UK public love the Virgin brand more than any other. A sample of 2000 adults responded by saying that they admire the Virgin brand ahead of brands like Sony and Tesco. HPI Research.
Though Branson is 60 and Virgin is in its fourth decade of business, both portray an image of energy and initiative. Branson is cool and irreverent. If he is not posing for his Virgin airlines ads on the tarmac of an airport with a bevy of beauties in his arms he is busy circumnavigating the world in a hot air balloon.
People associate the word 'fun' with the Virgin group. And a lot of painstaking effort has been put in by the chairman of the group to achieve this. So brand savvy and fun loving is Richard Branson that he doesn't even hesitate to appear in the latest Bond movie just for a few seconds. In "Casino Royale" Branson makes a cameo appearance as a passenger passing through airport security. Do not be mistaken, this was not an act of buffoonery. Branson knew the reach of a Bond movie and his strategic appearance at airport security definitely reminded people about his own airlines – very shrewd strategy indeed to promote a brand.
Learning swimming within 15 days, on his own at the age of five to win a ten shillings bet that his aunt Joyce had set; starting the "Student Magazine" at the age of 16; selling music albums from the trunk of his car; and setting up more than 200 businesses till now – Richard Branson personifies unmatched character and enterprise. The success that his businesses enjoy today is the result of the assiduous building of his brand.
Richard Branson himself declared that he wants to make Virgin the best brand in the world. Probably that's the reason he designed his brand name a little bit like Coca-Cola with a red color background.
Doug Dvorak is the CEO of DMG Inc., a worldwide organization that assists clients with productivity training, corporate humor and workshops, as well as other aspects of sales and marketing management. Mr. Dvorak's clients are characterized as Fortune 1000 companies, small to medium businesses, civic organizations and service businesses. Mr. Dvorak has earned an international reputation for his powerful educational methods and motivational techniques, as well as his experience in all levels of business, corporate education and success training. http://www.dougdvorak.com
Article Source: http://EzineArticles.com/?expert=Doug_Dvorak