Start Taking Action Now – You'll Be Closer to Your Dreams
Posted on October 01, 2010 by CJ Article Team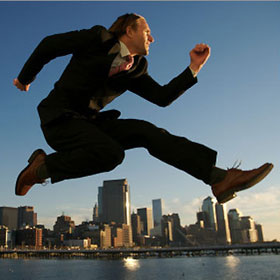 Do you know what keeps people from achieving their goals or living their dreams? It's not taking action. You can spend all the time in the world envisioning your future, setting goals, creating affirmation statements, meditating, and networking with successful people. However, if you spend all your time preparing and don't take any action, your goals won't materialize. Yes, you have to start taking action to make your goals and dreams come true.
Most people come up with brilliant ideas and want to make improvements to their financial well being, health and relationships with family and friends. However, self-doubt can step in when you start thinking, "I can't" or "It's impossible to do" before they even start taking action. Too many dreams have been shattered, especially those with lots of potential, because people don't take action before self-doubt starts to kick in.
If you have set your goals, make sure to begin taking action right away while you have high energy and enthusiasm. Ride the wave of momentum before it dies out. Decide what you are going to do in the next 24-48 hours to put one of your main goals into action. If your goal is to lose 10 pounds by July of this year, then make the decision to spend 30 minutes a day walking, and just do it. Don't delay and don't make up excuses that you don't have any time. Then plan what you are going to do during the next 30 day to put some of your other goals into action. If you want to exceed your sales targets for the quarter, then make a plan of how many prospecting calls you're going to make every day for the next 30 days. Discipline yourself so that you follow through with your plan.
Have faith and confidence in yourself that you are going to achieve big goals. Don't worry about what other people will think about you – it's your life, not theirs. And whatever you do, don't give up. Too many people give up just right before the floodgates of success start opening.
Now that you have envisioned your future and have laid out concrete plans, just go for it and start taking action. Stop waiting for the perfect time to do it. There is never a perfect time. And stop taking so much time coming up with the perfect plan. Successful people will tell you that things didn't happen according to how they initially planned it. They kept taking action, and made adjustments along the way. My mentor told me that perfectionism is masked laziness. Some people may tell you that they are working to perfect their plan, when in fact, it's just another excuse and they're either afraid or lazy to start. So go ahead with the plunge and start taking action. You'll be glad you did.