Cool Ideas to Earn Extra Money From Home
Posted on May 28, 2011 by CJ Article Team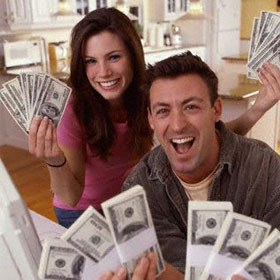 In order to earn extra money from home, first you need to figure out what exactly you'd like to do that will make you this cash. Money certainly doesn't fall off of trees, but you can rustle some up whenever you like, if you have a good idea to sell something.
Perhaps you have a hidden talent that you've never done anything with – a lot of people are way more creative than they realize, and that little hobby you do, could turn into a golden opportunity. Now, when I say "talent" I'm not necessarily talking about the creative arts. You can be talented in other areas as well. The important thing is that you need to sit down and think about all the skills you have, that you may be able to use to make extra money.
Here's some ideas that may help get you brainstorming:
Make Custom Gift Baskets
Gift baskets are quite popular and can be given to someone for just about any occasion. If you've ever visited an online vendor of gift baskets, you can see the vast array of items that can be put into one, and also how expensive they are to order.
Now, imagine yourself making these types of custom baskets for people in your local community. You could make baskets for birthdays, anniversaries, holidays and weddings. People will pay you nicely to give their basket that certain personal touch.
Landscaping
If you enjoy being outdoors and doing some minimal physical labor, then consider offering landscaping services. Many people dislike trimming the bushes, mowing the lawn, raking leaves, etc. This type of service would especially be appealing to husbands who would rather be watching their favorite sports on TV, than working outside tending the lawn.
Keep in mind that you would need to be reasonably fit, and able to supply your own lawn care tools..
Interior Decorating
When you walk into someone's house, are you secretly rearranging the furnishings in your mind?
If so, then you should look into making it a little side business. There are lots of people who are absolutely clueless when it comes to decorating, yet, they want to have a home that represents a
certain style. You will need to do a lot of networking to gain clients, but once you get started, you can work from word of mouth referrals.
Social Media Consultant
Do you know Facebook like the back of your hand?
Are you always Tweeting something to friends?
Do you have a Linkedin account and keep it updated?
Are you a whiz at getting followers?
There are many businesses who could use someone like you to help them run their social media campaigns. Many business owners are busy and just don't have time to learn how to even set up a simple fan page.
Offer to set up and maintain online social media for these people and begin making some handsome money.
Best top 10 moneymaking ideas that anyone can do from home. You can use these low cost ideas to bring in some extra cash quick! Click here now:
http://besthomeincomeideas.blogspot.com
Article Source: http://EzineArticles.com/?expert=Brenda_Ballentine