Helping Children Through Charities
Posted on May 24, 2011 by CJ Article Team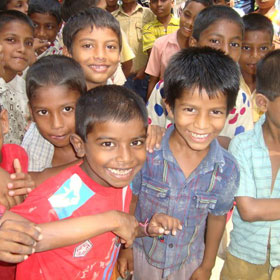 With the many responsibilities that come up in life, it is easy to focus on your own issues. The problem with doing this is that it is easy to become overwhelmed when you spend most of your time dwelling on all the stress you are dealing with. This stress can be eased to a great degree by contributing to charities and thinking of other people who may have more significant problems.
Think of the young children who have been abandoned or who have been left without shelter due to natural disasters or wars. Consider the thousands of children with medical conditions that limit their capabilities. It is heartbreaking to see what they are going through and it can put your own problems into perspective. For this reason, there are numerous charity organizations that aim to benefit the lives of young people stricken with certain setbacks.
The costs of medical treatment can be crippling to a family dealing with a child inflicted with cancer, diabetes, or cystic fibrosis. There are charity organizations that are set up to provide financial assistance to such families so that their children can continue to receive the medical treatment that gives them a chance at a normal life. Donating to children's medical charities can help pay for medical research, free surgeries, or support and education while the child is in the hospital.
It is safe to say that children living in poverty are doing so through no fault of their own. Programs are organized to assist these children. They often deal with children living in developing countries, war torn areas, or places struck by major natural disasters. Every year, there are numerous disasters such as earthquakes or tsunamis that have a devastating impact on people's lives and children can be the most affected. There are children's charities that specialize in providing aid and assistance to these children and their families immediately after the tragedy strikes.
The way children's organizations raise funds differs from one organization to another. A few examples include telethons, car washes, celebrity auctions, or car washes. Regardless of how it's done, there is an opportunity for you everyday to become involved in children's charities.
One of the major reasons for charities that specialize in helping children is because they are often too young to help themselves. They are innocent victims of tragedy and they deserve a chance at a normal life. Every day, there is something you can do to make their lives better. Whether it's contacting a charity directly or volunteering in a telethon, you will make a difference.
If you are interested in charity, one of the easiest things you can do is donate your car. Charity organizations are generally much easier to work with than the people you would deal with if you try to sell your car and it can provide a financial benefit in the form of a tax write-off. Your car will be used by the charity in one of many ways, such as getting to and from children's homes to bring them valuable resources.
The American Relief Foundation invites you to help us provide poor children around America with support they need. If you lost your car title and cannot donate we have an excellent resource to link you directly to your DMV page to order a duplicate car title. We are looking for a New York Car Donation to help our cause. If you have an unwanted car consider a charity car donation.
Article Source: http://EzineArticles.com/?expert=Anthony_Corrano