Splendid Glory – Celebrating 'Mother Nature'
Posted on July 20, 2011 by CJ Article Team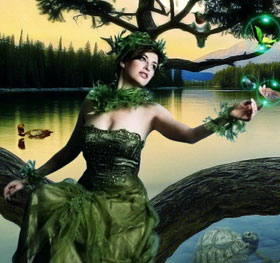 Mother Nature surrounds us with her undeniable beauty and takes on so many forms that it boggles the human mind. From the tree that towers to unreachable heights to the delicate rose as it blooms in quiet subtlety, the artistry of 'Mother Nature' is in plain view each time we leave our homes. But why restrict ourselves to enjoying the artistry of nature to only when we are outdoors? The best way to celebrate all the splendid glory of 'Mother Nature's' work is to bring the essentials of nature right into our inner sanctuary – our home.
The latest interior designing trends focus less on commercially produced décor and more on handcrafted pieces that exude the sight, smell and touch of nature. They are made from elements of the natural world like tree branches, bamboo, dried flowers, animal hides and the like. And although commercially-produced décor items are useful in interior design it is essential that the collections used are inspired by the colors of the Earth in shades of wood and greens to keep in tune with the natural items.
There are several ways to turn your home into a natural haven that will make your home worthy to such a precious guest as 'Mother Nature'.
Keep it Simple
To truly showcase the splendor of nature's beauty, the main staples of the home like furniture and window treatments should be in simple solid colors. The colors of the tiles and textiles used in the home should be Earth tones while the furniture should be all-natural solid wood. There is no room for dust-collecting knickknacks cluttering up the space. So, store them away or donate to charity. The simplicity of each room in your home is like a blank canvas. Adding naturally crafted art pieces that represent the vibrancy of nature's rainbow will serve as the 'paint'.
Natural Elements
Once your home's canvas is ready, it's time to add completely natural elements found right in nature. And you don't have to break the bank to find beautiful works of nature to add to your home. All you really have to do is go for a walk in a naturally dense area like a forest or woodland area. You can find amazing branches, stones, flowers and leaves during your walk. The branches can be twisted together to make an amazing wreath. Flowers and leaves can be dried and then arrange on parchment paper with glue. Once framed, they will make an exquisite conversation piece to adorn your wall. And let's not forget the stones. The possibilities are endless. They can be simply placed here and there around the room. Or they can be arranged in specific designs to adorn a single table.
Rustic Rules
The more rustic you are with the design elements of your home the better they will highlight the beauty of nature. Handcrafted furniture like log chairs or a quality bearskin rug will add just a touch of rural beauty. Southwestern décor is also a popular way to invite the past into your home and celebrate another culture. Incorporating items from Native American Indians, for example, can pull an entire room together. Natural hide drums used as wall hangings, tables or even several accompanied together in a corner can bring the pulse of Mother Nature right into your living space. Native Americans believe that the drum is sacred and its' beat represents the actual heartbeat of nature. The knowledge of the drum maker is vital in the creation of durable handmade drums made from pinewood and animal hide, which will last a lifetime, to be passed on to future generations.
When turning your home into an all-natural haven remember to keep it simple. Don't overcrowd your space with too many things but rather focus on a handful of quality-made items right from 'Mother Nature' herself to bring the outdoors right into your home!
by Sherry Quesnel
Manitoba Artisan, Keeper of the Drum